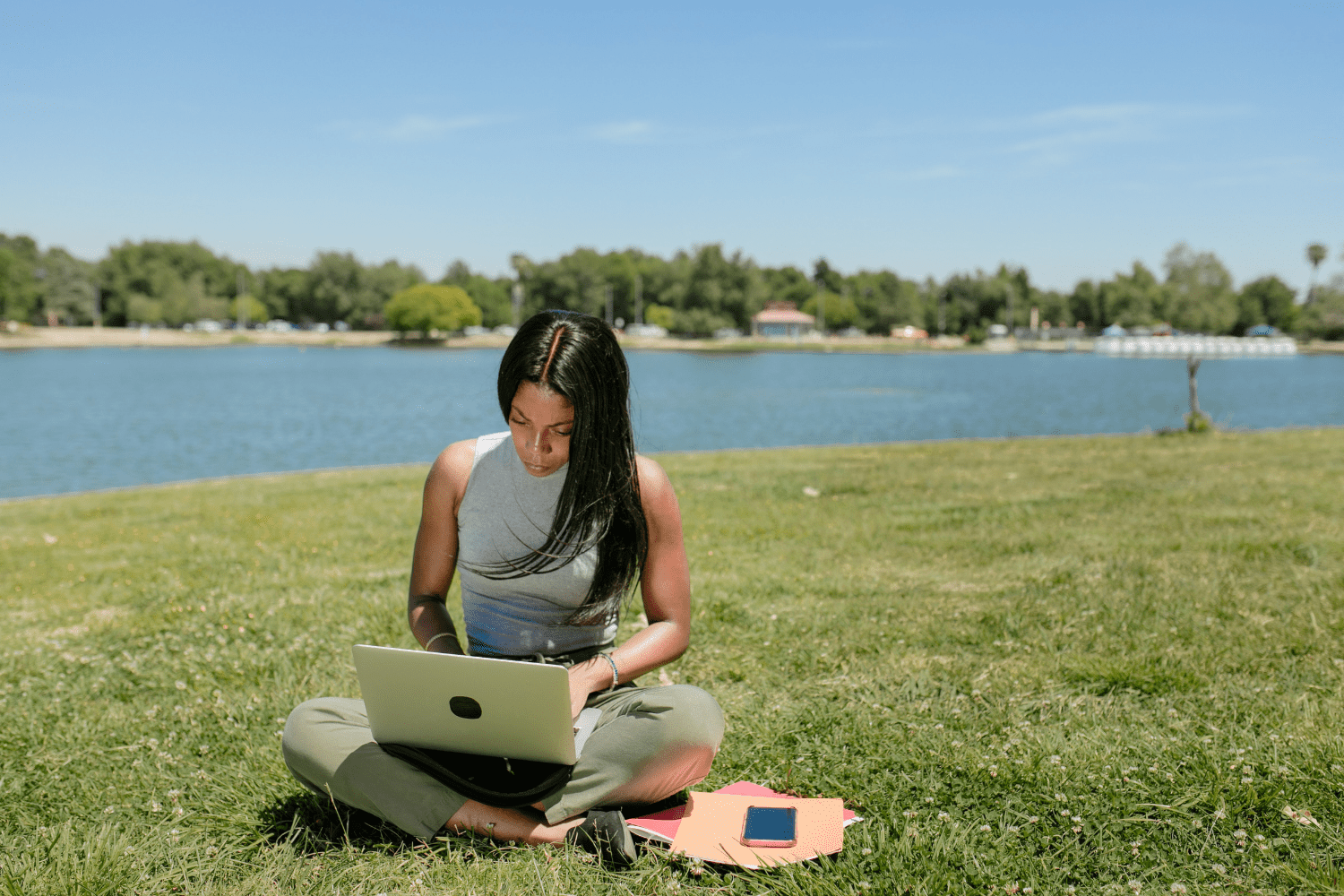 The IT industry has been swamped for the last few years. With people reimagining the way they work, tools and solutions that help those transitions have been in high demand. Sold out laptops and backlogs to book professionals have become somewhat normal as organizations scrambled to get up and running without their teams reporting to the physical office every day. Now, many companies are anxious to have their employees return to office, full-time. ADNET won't be one of those organizations. As a leader in the IT industry, I'm deeply familiar with tools and cultures that empower employees to work-from-anywhere. So, should everyone be forced to return to the office, regardless of their ability to be productive from another location of their choosing? In my opinion, the answer is a resounding no. Here's why ADNET is continuing to let our employees choose where they work from.
The new work/life balance
In 2020, like many organizations, ADNET transitioned almost overnight to a fully remote workforce. As a cloud-first managed services provider, engaging the tools, technology, and technical support was the easy part. Finding ways to facilitate real connection in a fully virtual environment was the real challenge, but it was the one that pushed us to achieve the most growth in our culture.
By 2021, we had a decision to make. With our team members thriving in our work-from-anywhere, cloud-enabled environment, did we still need offices? We decided the answer was yes, but a different kind of office. We created a shared, flexible space built for purposeful human connection, not micromanagement. While designing ADNET's new spaces, we also opted to make our work-from-anywhere approach permanent for most employees. Much like manufacturing or healthcare, IT does require some positions to report to a specific location. For us, this may include various technical resources who still need to go to client sites for project work. But when they're not working on those projects, they can work wherever they want. This flexibility has made our team more productive – not less.
According to new research from Microsoft, "50% of leaders say their company already requires, or plans to require, full-time in-person work in the year ahead." With the resounding success of a work-from-anywhere approach for many environments and industries, that seems like a missed opportunity to me. The same research shows "52% of Gen Z and Millennials are likely to consider changing employers this year, up 3% year-over-year." People are prioritizing their lives, their families, their health and their happiness – as they should be. Ask yourself, is it worth losing dedicated employees, or at the very least demotivating them – just to have them sitting where you can see them? I don't think so.
The evolving role of the office
Once upon a time, the office was where you had to go to get your work done. That isn't the case anymore. The modern office is an operational hub and cultural outpost. It's a space where your team can get together to collaborate, share a coffee and hang out, or simply grab some focus time. It's a place to share with clients and the community.
In 2021, we introduced new concepts for the ADNET offices based on these new needs. We changed our locations, choosing state of the art buildings with progressive amenities, with plenty of natural light and stress-free parking. Prioritizing function in our designs, we worked closely with our amazing partners to make inviting spaces the team genuinely loves using.
What we focused on for our return to office:
Collaborative spaces that had flexibility and could easily change for different groups and uses
Meeting rooms that allow for privacy but still feel open and inviting
High-tech workspaces with everything the team needs to meet virtually or in person, ready to go at a moment's notice
Creating areas for connection and relaxation – including our "Recharge" rooms which can be used as private spaces for whatever you need, and our gourmet coffee bars
Amenities like gyms, cafes and other building perks
What we eliminated for our return to office:
Huge footprints with square footage we didn't need
Siloed cubicles and individual offices that divided the teams by department
A server room (inside IT joke here…) – perks of being in the cloud, we didn't NEED one anymore!
Space that felt more business formal than our culture
Relics from the office past…think fax machines, huge printer stations, mail rooms…
Prioritizing culture…even virtually
For more than thirty years, ADNET has focused on its people-first culture. We've always subscribed to the "work hard, play hard" way of life at the office. We didn't want moving into a hybrid environment to affect that. Finding ways to facilitate real connection in a virtual environment was challenging, but with support and feedback from our team, we all made it work.
Flexibility is key
Even prior to the pandemic, ADNET allowed its employees flexibility in their working environment. We always offered "flex-time", allowing people to adapt their schedules when life got in the way. Allowing people to take time off and work from home as needed has been a key part of our culture for years. Snow day? No problem. Work from your couch. Kids home sick? We get it – take care of your family first and log from home in when you can.
Work-from-anywhere flexibility isn't new to ADNET, but adapting to remote work every day was a change for many of us – especially team members who thrive in the office and look forward to coming in. Our goal in embracing the work-from-anywhere mindset was to empower our entire team to work the way that's best for them, while maintaining the award-winning culture we have built over the last thirty years. It was imperative to us that we protect our culture through this transition to a permanent work-from-anywhere model, while keeping our team safe, happy and healthy.
People connect people
ADNET has grown tremendously over the past few years, much of that happening during the pandemic. We onboarded new team members, partners, and vendors without ever meeting them in person. I was thrilled when team members who joined in 2020 and 2021 said they truly felt like part of the team. Their onboarding experience was better than they had hoped. That's a testament to not just the tools and process, but to the people. Without a passionate team in place to foster connection and belonging, it doesn't matter what technology you have. Putting the right people in a position to help others succeed and encouraging that behavior is key.
The right tools for collaboration
With hybrid groups, we collaborate through video meetings on Teams. We turn our cameras on and use technology to facilitate our brainstorming sessions rather than requiring everyone to be locked in a conference room all day. Our pets and kids randomly join our calls, and are welcome as part of the ADNET family. Through trial and error, we found tools that worked well for collaboration and rolled them out to the entire organization. Adapting and learning how to use new tools and technology – and use them well – has been a key strategy for our team.
Adapting team events
ADNET still hosts and participates in events, we just do it differently. Webinars and videos have taken the place of some trainings and conferences. Every event or meeting is intentional, which keeps people excited and focused, actively listening and participating no matter where they are. We hold company meetings over Teams, which is helpful for those early morning or after hours' time slots.
For a company-wide gathering toward the end of 2021, we got a food truck and rented a tent and furniture to ensure employees were comfortable and safe – and having a great time. We prioritize the comfort of our team – and it works. We've hosted virtual and in-person social events, always on an opt-in basis. Everyone is welcome, but no one is required to attend. While we'd love to see our teammates outside of work, we let people choose what to engage in and what events work for them.
Unlimited time off
In our world, RTO doesn't stand for return to office, it stands for Responsible Time Off (ironic, I know), ADNET's unlimited PTO policy. In 2017 we introduced Responsible Time Off (RTO), enabling all team member to take unlimited time off, provided they meet their professional commitments. With burnout at an all-time high, we focus on letting our team take the time they need to come back to work refreshed, productive, and healthy. I don't ever want to hear that someone can't take time off in September because they took a week in February. That's just not who we are. I trust my team to take the time they need to live a full life while honoring their commitments to our clients and our company.
Trust goes both ways
If you have the technology to support remote work, and you're still requiring people who could otherwise work effectively from anywhere to commute to an office for any arbitrary amount of time, I challenge you to reflect on the root of that policy. In my experience, the problem is often a systemic lack of trust between management and employees. Management control measures only makes that worse. Nothing says, "We trust you" less convincingly than "We're monitoring you".
Return to office mandates can feel personal when they don't impact everyone equally. If you're requiring most team members to come in, but letting managers and executives have flexibility – that sends a message. Hint: it's not a good one. Trust must be employed at all levels of the organization. If you believe certain team members are capable of responsibly working from anywhere, why is it that you think others can't? If you're hiring talented, passionate, driven individuals – it's likely that they'll do their job (and do it well) regardless of role and location. Just because a role has historically been filled by someone coming in and sitting at a fixed desk all day doesn't mean that's the best choice now. Give your team the trust to create their own working environment that helps them maintain productivity AND balance.
So, should you plan your organization's return to office?
At the end of the day, some people are still happier in the office. It's important to meet their needs too, and our offices were planned with introverts AND extroverts in mind. When a team member wants to work from one of ADNET's offices, we encourage it. Our offices are stocked with great coffee and ready whenever someone wants to come in. But we won't require someone who does their best work in their dining room to drive an hour each way when they could do their job from the comfort of their own home – or wherever they happen to be.
It's up to our team to decide where they're most productive, and we trust them to do that. Certain positions may require travel and meetings or events might mean changing locations for the day, but we ultimately want to let our team find the work/life balance that works for them. We want everyone to feel valued and heard.
So what's ADNET's secret to having a highly-productive, happy team and being a Best Place to Work? It's deceptively simple, but here it is:
Hire people who are self-motivated and value accountability. Focus on their skills and performance, and the requirements of their individual job, rather than where they log in from. Give them the resources, flexibility and trust they need to do their jobs well. Support their needs outside of work. When they share feedback – good or bad, listen and learn. That's how you'll earn their best work.
So, to the companies worried about culture in a hybrid or fully remote environment…don't be, unless you're not willing to put in the effort to make it successful. There are so many ways to thrive and keep your culture relevant without implementing arbitrary mandates. With the help and trust of our team, we make it work every day – and I'm personally committed to continue doing what's best for our team as the workplace evolves.
You have to do what's right for your organization. I believe that starts with doing what's right for your team. For ADNET, that means embracing flexibility and trusting our people – and no mandatory return to office.