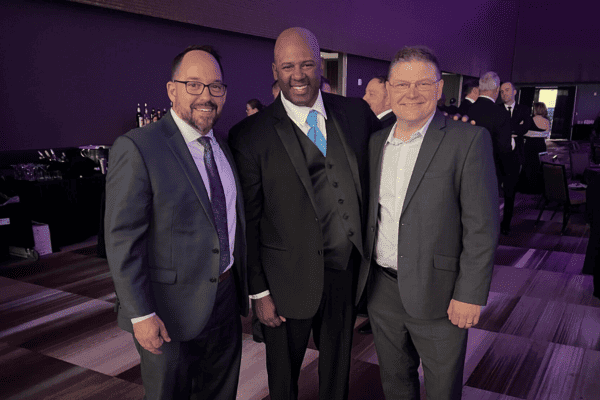 Why We Combined ADNET and Tech II
In today's dynamic technology industry, businesses need to grow and innovate to stay competitive. One way to grow is through acquisition. Especially for small to midsize businesses, acquisition can be an important part of a long-term growth strategy. That's why ADNET looked to expand its presence in New York's Capital Region through M&A. ADNET's goal through the strategic acquisition of Tech II in Saratoga Springs is to accelerate growth and provide expanded premier managed IT, cloud, and security services to new and existing clients. Our vision is to be the premier regional technology services company for New York's Capital Region and the greater Northeastern U.S. ADNET aims to revolutionize the IT customer experience by combining national capabilities with a human-centered approach. Here's why we're so excited about this strategic acquisition – and what we've learned about integrating new teams and new locations.
Unlocking New Opportunities
The partnership between ADNET and Tech II presents exciting opportunities for employees, clients, and partners. As our teams join forces, we embark on a journey of learning and skill enhancement. By expanding geographically, the door is automatically opened for team members to pursue new skills and passions. No two people have the exact same skills, and growing the team presents a learning opportunity for everyone. Mentoring relationships will be built, and we'll be looking to share knowledge across locations.
Through our nationwide network of independently operated IT management companies united by the New Charter Technologies platform, our team has increased access to training and growth opportunities. Expanding our regional presence and team enhances that experience even further.
For Tech II clients, this integration guarantees continued exceptional service. Our skilled IT professionals now have an added advantage – ADNET's robust capabilities and national network of partners. ADNET clients benefit too, gaining more local talent dedicated to meeting their evolving technology needs. Through ADNET, additional premier services are made available to clients, such as custom development, advanced security services, and others.
ADNET's commitment to excellence—as an employer of choice and an IT partner of choice—is reflected in our client experience and in the recognition we've earned. ADNET has been named a best place to work in our market locations, and we have been ranked globally among the top MSPs in the Channel Futures MSP 501, ChannelE2E Top 250 Public Cloud MSP list, and CRN MSP 500—reaffirming and fueling our dedication to providing exceptional service.
Capitalizing on the Region's Technology Talent
At ADNET, we recognize that exceptional talent is the key to success in our highly competitive industry. Talent fuels innovation, enables outstanding customer service, and drives business expansion. This understanding influenced our decision to create this partnership. The combined strength of our collective ADNET and Tech II team is unparalleled. Retaining all employees also accelerates growth of ADNET's regional presence. As we grow and scale, our goal is to attract even more top-tier talent in the Capital Region.
The Capital Region is a thriving market for technology, IT, and managed IT services. We see immense growth potential locally. We're passionate about contributing to our local business communities, and investing in and expanding our workforce through this strategic acquisition, benefits both our company and the regional economy by creating and retaining high-quality tech jobs. Talent attraction and retention are crucial factors that differentiate thriving regions from those merely surviving in today's global economy.
Cultivating a Shared Culture, Focused on People
Prior to forming this partnership, we analyzed each other's workplace culture to ensure a seamless integration. Aligning both teams under a shared mission and values was very important to us. We discovered that we shared a deep-rooted commitment to the well-being of employees, clients, and our local communities. This cultural alignment is evident in our people-first approach to business.
ADNET heavily invests in our culture and workforce. Recently, we launched collaborative workspaces in the Capital Region and Connecticut, serving as hubs for our work-from-anywhere team. This flexible approach empowers our employees to work wherever they're most productive, enabling us to effectively meet our clients' needs and create balance for our team members. As ADNET welcomes new team members, work-from-anywhere policies will be rolled out to them as well. Just a few weeks into the transition we're already seeing people choosing to work from the various offices or their homes – or their mountain cabins.
In spite of everything that comes with growth through acquisition, people should be the priority. Being brought into a new organization is challenging. Checking in with everyone throughout the process can go a long way toward relieving stress and addressing any concerns.
Committing to excellence for clients and communities
Expanding into a new geography – even one near an existing location, is an opportunity to help more people. You're creating new job opportunities. Bringing new services or products to more clients, and becoming part of a larger community. The importance of giving back as you grow can't be overstated.
We're excited about the future of growth at ADNET. It provides each of us the opportunity to focus on what we're most passionate about. In our case, that's helping organizations identify, build and implement technology solutions that solve challenges and advance their business goals, while nurturing the success and development of our team.
Together, our joint efforts will drive growth for ADNET and elevate the technology services industry in the Capital Region and beyond. Join us in redefining the way technology services are delivered. We're excited to create something amazing for our clients, our colleagues and our communities.
Whether you're expanding your team through new hires or acquisition – keeping the focus on people makes all the difference.