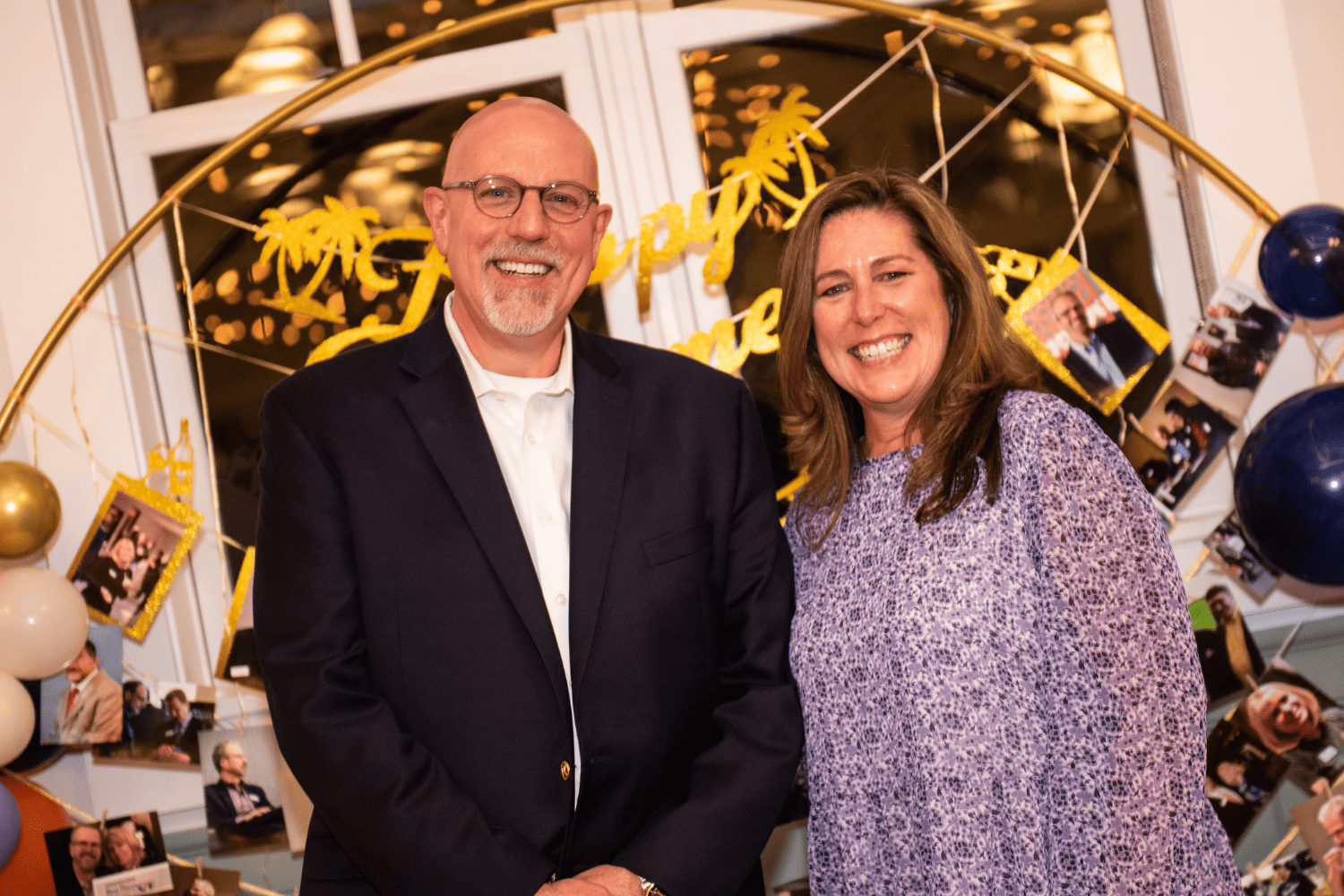 Succession planning is imperative to any organization. Regardless of industry, it's important to secure the future of your company and ensure clients will be taken care of long after you're gone. Why are we so passionate about growth at ADNET, and across the New Charter Technologies platform? Despite working in the IT industry, our people are what drive us. We're raising the next class of IT leaders, and it's a responsibility we take seriously. Ensuring the future of your organization through succession planning is a gift to your clients, team, and partners. Here's why it's so important to allow your organization — and the people within it, to grow and evolve.
Passionate people drive better business outcomes
Growth isn't just about the business, it's about the people. ADNET and New Charter Technologies ensure that there are opportunities for growth at every level of our organization for every single team member. Regardless of someone's current role or specialty, employees are encouraged to pursue opportunities that help them develop their skills and grow professionally and personally. We want to help people to find their passion and expand on it. Whenever possible, we create opportunities to promote from within and help existing team members take the next step in their careers.
As CEO of ADNET Technologies and Group President at New Charter, mentoring and creating growth paths is something I'm personally committed to. Being part of a national platform like New Charter gives our team even deeper access to these growth opportunities. We've had team members transition to cybersecurity and ultimately move to our fellow operating company, Cyber74. I've had members of the operations team display a passion for marketing and ultimately end up leading that department. Others have started off providing technical support to clients and ended up on our Engagement Team. We never want to force anyone to stagnate! We want to provide as many opportunities as possible, whether that's in our Operating Company or our national platform. The IT industry is constantly changing, creating unprecedented opportunities for people to pursue new skills, education, and career choices. ADNET supports that at its core.
Don't assume you know what your people want to do and where they want to go. Have those meaningful conversations whenever you can. Talking about it with your team is an invaluable way to develop growth paths that benefit the people AND the organization. Your team will appreciate it, and you'll be able to look for people that can be elevated into new roles internally.
With succession planning, grow your people, grow your business
Helping your team succeed helps your business scale. I'm extremely fortunate to work with such a talented group of people. Part of the reason they're so talented is they never stop. They never stop learning. Never stop growing. They never stop challenging themselves and our organization to do better. We have tremendous longevity at ADNET because our team members keep growing with the company.
When ADNET began expanding geographically we realized there was a need for "boots on the ground" leadership at a regional level. With that decision came an opportunity to take trusted members of our team and promote them to General Managers at various ADNET locations. Ronald Gibson, Erin Peterson, and now Daniel Bardin, have brought tremendous focus to our local markets. This local management model has been beneficial to clients, partners, and team members.
Now in 2023, I'm proud to say that we've had another spectacular growth story – Lynette Maffei's transition to company President of ADNET. Lynette joined the team in 2015 as Controller. She made an impact quickly, helping align and improve processes across the organization and taking charge of operations, administration, and finance for the firm. Her passion for the organization and her role didn't go unnoticed. In 2020 she was promoted to Vice President and Chief Financial Officer. She continued to excel as a member of ADNET's Executive Leadership Team (ELT). Her leadership throughout several major acquisitions and organizational changes was imperative. Now, she's taking over the day-to-day operations as President. Her growth has helped the organization grow and scale as well. I know that with Lynette as President of ADNET, I can focus on strategic guidance as CEO while Lynette, as they say, has the conn.
You never know when you could be hiring your next leader.
Ensuring the future of your business
ADNET has always had a unique methodology when it comes to leadership. We've always believed in an open-door policy – even before open-concept offices were the norm. Our executives don't believe in working in a silo, they'd rather work alongside the team. Everyone is encouraged to bring their ideas to the table – whether or not "manager" is in their title. If we're doing something that doesn't make sense, we want our whole team to feel comfortable questioning things. Having leaders that are truly part of the day-to-day culture of our organization creates unique mentoring opportunities for team members at all levels. We strive for a culture of curiosity, learning, and trust. This creates the perfect environment for team members to advance personally and professionally. While we have incredible longevity across ADNET, we're passionate about nurturing the next generation of leaders. Enter succession planning.
When I returned to ADNET in 2008, after co-founding the company in 1991, my partner Ed Laprade and I immediately began discussing succession planning. We wanted the plan to be well established before anyone even thought about retiring. There was never a doubt in our minds that ADNET Technologies would live on, whether one of us was at the helm or not.
Succession planning may not be the most exciting topic for some, but it's necessary. As soon as possible, you should be looking at your team to see who the right fit for the next steps may be, as well as if there are gaps that you can't fill in-house. We were incredibly fortunate to have found Lynette, but not every organization has someone internally for every role. That's okay – growing your team by hiring the right people is important, too.
I'm truly fortunate to have such an incredible leadership team. With the development of ADNET's Executive Leadership Team back in 2020, we've been able to drive change across the organization, mentor the next class of leaders and help improve processes and culture. As our people grow and evolve, our company does too.
The legacy you'll leave behind with succession planning
The success of our people is something I'm deeply proud of, and continually inspired by. We have a team of highly skilled professionals that I trust implicitly to do the right thing for the clients, business, and people. I know these individuals can be relied on to help preserve and scale our best-in-class organization and culture.
Don't get me wrong, I won't be leaving ADNET any time soon… But when I eventually retire, I know my clients, team, and partners will be in great hands.