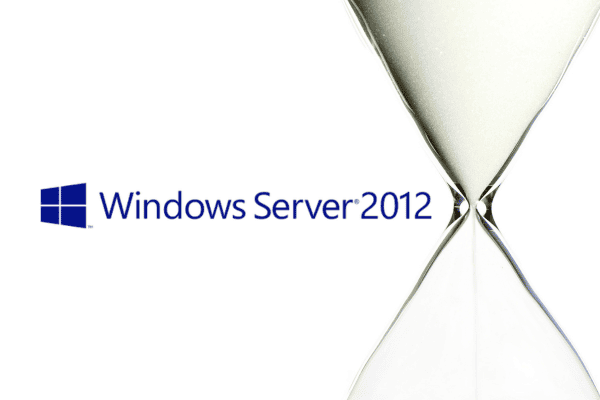 Windows 2012 R2 has been an IT mainstay for over a decade, serving as the go-to operating system for businesses seeking the benefits of a modern Windows platform without the tablet-like interface of its predecessor, Windows 2012. If you're reading this, chances are you have or have had servers running Windows Server 2012 R2. However, the time has come to develop a plan to update your systems or migrate to the cloud. Why? Because in October of 2023, Windows 2012 R2 will officially reach end-of-life (EOL) status. In this blog, we'll explore the available options for updating your systems to ensure you remain protected and productive.
What happens when Windows Server 2012 R2 goes "end of life (EOL)"?
In the technical world, "end of life" or EOL basically means being left without support. This implies that regular security updates, bug fixes, and patches will no longer be provided. Microsoft has shifted its focus towards its newer operating systems, so troubleshooting issues for older systems are no longer their priority. As a result, you won't have access to technical support from Microsoft for Windows Server 2012, even if you're willing to pay for it. This can potentially lead to significant costs for your business if unforeseen problems arise.
The risks of running an unsupported system
Having systems at EOL status can create issues – security and otherwise. Since these are no longer regularly patched, it creates an opportunity for vulnerabilities to be exploited. Additionally, most MSPs won't work with systems that aren't supported.
An unsupported system is an easier target for threats. While there's no way to ensure complete security in your IT environment, keeping systems up to date and leveraging current, supported versions is a great way to make things more difficult for cybercriminals.
What about Windows Server 2016?
Microsoft leverages an N+1 support model, meaning it only focuses its efforts on the most current operation systems and the system that came before that. At this time, that is Windows Server 2022 and Windows Server 2019. Notice that Windows Server 2016 is not on this list, either. Support for that OS is currently in an extended support phase, meaning all Microsoft Support comes with a fee. If your infrastructure is currently on Server 2016, it's considered "Extended Support" and it's also time to start planning that roadmap to a newer OS.

Options for upgrading Windows 2012 R2 Server
There are a few different options for upgrading your existing Windows 2012 R2 instances. Discuss with your IT partner which one to choose.
Purchase Extended Security Updates. Microsoft offers the option to purchase Extended Security Updates (ESUs) for a period of three years, although it isn't recommended. ESUs can be helpful during the transition period but aren't a long-term solution. While they help with the security piece, there's still a gap when it comes to support. Extended Security Updates can take you through until October of 2026 and the pricing of these increases each year. The option to purchase ESUs is only available to customers with Software Assurance (SA) licensing and an Enterprise Agreement. Typically this rules out clients in the SMB space, who due to size would not have an Enterprise Agreement.
Upgrade your servers. Traditionally the approach for most businesses when facing an EOL situation is to replace or upgrade that equipment. It is no different for your Windows Server OS, however, it may be more complex. In-place upgrades are an option, but not recommended as best practice by Microsoft. The most well-rounded solution is to migrate your workloads to new servers running supported operating systems. Windows Server 2022 and SQL Server 2022 are both available options.
Migrate to Azure. Microsoft is offering extended security updates for one year at no charge for anyone migrating their applications and SQL Server databases to Azure Virtual Machines. This offer allows businesses additional time to plan out their OS upgrades by leveraging Microsoft's commitment to security and compliance in their cloud. This is an excellent path that allows businesses to plan for cost impacts effectively while taking advantage of the unique benefits of Azure. Capabilities include moving to dedicated instances for SQL, replacing Remote Desktop Services with Azure Virtual Desktops, Azure Files, and many more.
ADNET's recommendation for the end of Windows Server 2012 R2
Our overall recommendation is to get your systems up to date, but the decision on how to do that should be made on a case-by-case basis. First, ADNET recommends evaluating the current servers and the roles they are performing. Analyzing what's currently running on your servers can guide you toward the best option for your organization. When comparing this with the offerings on Microsoft Azure, you may find that scaling your server instances more effectively in the cloud is a viable solution.
Depending on what you're running on Windows Server 2012 R2 or SQL 2012 instances, moving to a supported system may require a more complex configuration or a complete migration. Therefore, it's crucial to create a migration plan as soon as possible. Waiting until the last minute could lead to periods of vulnerability and potential loss of productivity if any issues arise.
Consult with a trusted IT partner. If you have other systems, such as VMware or your Hyper-V host, that are at or nearing their End of Life, factor those into your decisions regarding your servers.
Need to upgrade your Windows 2012 R2 servers?
With so many options, it's always helpful to discuss your IT strategy and business goals with your trusted IT partner before making any decisions that could have short and long-term impacts. In addition, embarking on the prospect of migrating your IT infrastructure to the cloud can be a daunting task on your own. If you need help getting your servers current reach out to us – we're happy to have a conversation and talk through which option is right for your business.