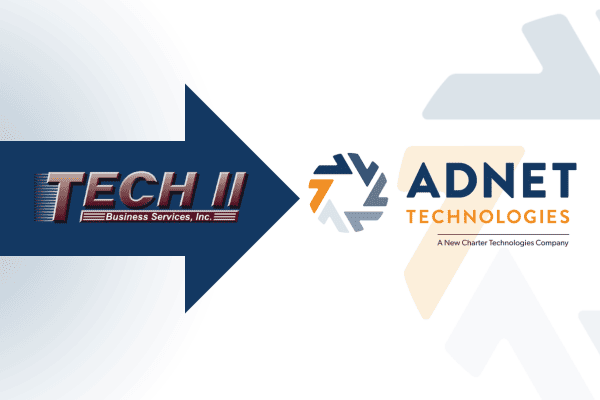 ADNET has been through a major evolution in the past decade. We launched a cybersecurity company. Our MSP became part of the New Charter Technologies national platform. ADNET expanded into New York's Capital Region – first by acquiring SAGE in 2015 and now by bringing Tech II Business Services in Saratoga Springs on board. We've won numerous awards for our industry leadership, including being named to the MSP501, MSP 500, Marcum Tech Top 40, Top 250 Public Cloud Providers, and Best Places to Work. ADNET has reimagined the way we work – embracing a work-from-anywhere approach and opening high-tech, collaborative office spaces for our teams.  
We've also experienced an evolution of leadership, with co-founder Edward Laprade retiring, Christopher Luise, CEO of ADNET being named Group President at New Charter Technologies, and my own shift into company President. Suffice it to say, there has been a lot of change. But the most important things remain. At the root of it all, we're still an IT company you can trust, with a culture built around appreciation and drive. Here's how we're bringing the best of Tech II Business Services to ADNET, and how together we're building an even better brand. 
What's changing?
Tech II has a wonderful work ethic and a dedicated team of employees. That won't change, and neither will the great client service they've provided in the Capital Region for over forty years. But behind the scenes, we're working closely with the team in Saratoga to get our business systems aligned.
Since ADNET acquired Tech II, we've been working diligently on systems integrations to help move their team onto the platforms we leverage. This will help us provide enhanced, streamlined service to clients across all locations. Our goal is to improve the processes and ensure that anyone from any team can assist clients effectively. We're also working to strengthen partnerships to get clients access to the highest level of partner support possible.
We'll be sunsetting the visual identity of the Tech II brand, including things like the logo, social media, and website. Since Tech II is now part of ADNET, thinkADNET.com will be the official website for all locations. While this is a new look and feel for the brand, we're committed to keeping what's most important – a high standard of service, quality solutions, and a trusted team of experts. You'll be seeing more ADNET logos, but the presence behind them is the same team you know and love.
New services
In addition to changing many systems on the backend, clients will have access to additional advanced services through ADNET and our national partnerships within the New Charter Technologies platform. ADNET has been helping businesses solve business challenges through IT for more than thirty years. Over time, we've continued to evolve and refine our services as a leading MSP (managed service provider).
ADNET offers advanced cloud, managed IT services, and cybersecurity solutions to clients. We can help clients remotely and onsite and have dedicated experts in-house. With Tech II joining ADNET Technologies, clients will have access to these expanded services.
Even more experts
ADNET has a large team of experts across the Northeast – and bringing the previous Tech II team onboard adds another layer of depth. The Tech II team is passionate, dedicated, and skilled – a natural fit for ADNET's culture.
As we work together to merge our teams, we're realigning our departments. Helping people redefine their roles, focus on developing unique skill sets, and follow their passions. This is a great opportunity for us to examine gaps in expertise or experience and work to fill them, creating the best possible team to help our diverse clients.
Whether you work with our Albany, Saratoga Springs, or Rocky Hill, Connecticut location, you have access to our entire team. That's over seventy people ready to jump in and help!
We're so excited to bring Tech II into the ADNET family, and we're thrilled to have such amazing clients, team members, and partners on this journey with us. Stay tuned – lots of exciting things are coming! If you have any questions about working with us, our solutions, or our commitment to the business community in the Capital Region, reach out. We'd love to hear from you!