Microsoft Teams (Teams) has come a long way since my January 2018 blog "Skype for Business to Morph Into Teams" and can now be considered a full-featured collaboration tool that can replace Skype for Business (SFB). In this update, I'll share a little about ADNET's internal experience making the move from Skype for Business to Microsoft Teams, and what that means for our clients and other businesses facing the same transition.
Since last year, ADNET Technologies has been operating in is what is known as "Islands" mode. This allows users to use both SFB and Teams with some interoperability between the two. Since we were also using SFB for our phones, we held off on "upgrading" (as Microsoft calls it) to Teams until we were comfortable with the voice functionality within Teams. Just this past week, we pulled the trigger and upgraded to "Teams Only" mode. So far, things are going well. As with any major change to an application that your entire user base works with on a daily basis, there has been a learning curve and some pain. Overall though, the feedback has been mostly positive. Here are some things to think about if you're considering moving to Teams:
Not ready to move from Teams yet? Microsoft may decide you are.
As I pointed out in my 2018 blog, if you are thinking about deploying a collaboration tool within the Microsoft Office 365 (O365) suite, go right to Teams. At this point, you will find it difficult to get the appropriate licensing to deploy Skype for Business. If you are currently using SFB for chat or for phones, it's time to start planning your move to Teams. Microsoft is already scheduling automatic upgrades to Teams on the back end. Several of ADNET's clients have learned this after coming in one day and launching their SFB clients as normal, only to be presented with a message saying that their organization has been migrated to Teams (as shown in screenshot below).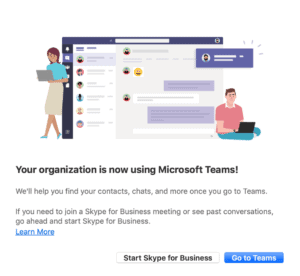 The move won't happen entirely without warning. Microsoft does send an email to the email address associated with the global admin on your O365 Tenant telling you when your upgrade is scheduled. But, if you miss the email, you will be in for a surprise come upgrade day. It appears that Microsoft's targeting "smaller" clients for these upgrades and doesn't plan to force Enterprise clients to move currently. Here is a statement from a Microsoft FAQ regarding the upgrades to Teams.
"In an effort to support smaller customers that may not have dedicated IT resources, Microsoft is assisting with automated upgrades from Skype for Business Online to Teams. Eligible customers will be notified of the upgrade through emails and Message Center notifications. Additional details are provided in the communications."
Teams includes some new and improved features
Microsoft has added some features back into Teams that you may not have previously had, depending on your Skype configuration, such as the ability to "park" a call in the cloud and retrieve it from another device. They have also improved certain features such as the consultative transfer option. This gives you the ability to chat with a user in an IM window prior to transferring a call to them, allowing them to advise on their availability knowing the context of the incoming call (I have yet to find someone who doesn't like this feature). The multimedia meetings are also full-featured with an interface that most users find intuitive. The new GIF and sticker features in the chat are a big hit with our team.
Teams desk phones and meeting room devices are now available
If you are using SFB for your phone system, there are some additional considerations around desk phones.
The Linux-based Polycom, Yealink and Audiocodes phones that were certified for SFB will not be certified to work with Teams. All current certified Teams phones are running an Android operating system with the Teams app installed. Yealink, Crestron and Audiocodes do have phones available now. However, they are considerably more expensive than the Linux based phones due to the larger touch screens required to run Teams.
The older Linux based phones can still be logged in as a user that has been migrated to Teams. This is due to a backend gateway that Microsoft has put in place. However, there will be some limited functionality with contact lists. It is not clear as to how long Microsoft will keep the backend SFB and gateway infrastructure in place. The ability to control your desk phone from the Teams application (BToE) isn't available for the Linux-based or Teams phones.
There is a plethora of USB and meeting room devices that are certified for Teams so for users that do not require an actual desk phone, there are many inexpensive options for deploying or upgrading to Teams for voice.
No further updates will be made to Skype for Business
The bottom line is, it is time to upgrade to Microsoft Teams. No future enhancements will be made to Skype for Business. All development for collaboration and phone functionality will be put into Teams going forward.
Want more information or need assistance with your upgrade from Skype for Business to Microsoft Teams? Contact ADNET today and we can help guide you.