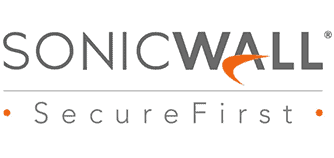 Businesses today compete in an increasingly complicated and globally connected world. Cybersecurity technology is both an enabler and an inhibitor as businesses adapt to this rapidly changing environment. As both businesses and the cyber landscape evolve, a new cyber arms race is emerging. This puts organizations and their cybersecurity solutions in the crosshairs of a growing global cybercriminal industry. Providing more than just breach detection, SonicWall delivers automated real-time breach prevention that protects organizations from cybersecurity threats including:
Ransomware
IoT DDoS attacks
Encrypted malware
Our next-generation cyber defense platform is built on a cloud-based multi-engine sandbox that captures malware to safely identify – and block – advanced threats. The SonicWall real-time breach prevention allows businesses to operate with less fear from cyber criminals.
SonicWall has been fighting the cyber-criminal industry for over 25 years defending small, medium size businesses and enterprises worldwide. Backed by research from the Global Response Intelligent Defense (GRID) Threat Network, our award winning real-time breach detection and prevention solutions, coupled with the formidable resources of over 10,000 loyal channel partners around the globe, are the backbone securing more than a million business and mobile networks and their emails, applications and data. This combination of products and partners has enabled a real-time cyber defense solution tuned to the specific needs of the more than 500,000 global businesses in over 150 countries.